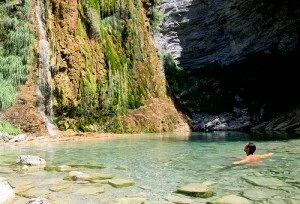 Last year I wrote an article about wild swimming for Green Parent magazine and was very much influenced by one of my favourite childhood books, "Swallows and Amazons", as well as my own nostalgic memories of dam building, pooh sticks and general messing about by water.
Recently I've enjoyed revisiting "Wind in the Willows" with Ruby, loving the fact that this gorgeously illustrated book covering the escapades of Mole, the Water Rat, Wise Badger and Mr Toad is one of her current favourites. I have to admit, however, that it's the chapters where Mr Toad is sent to prison, in prison or escapes from prison that she's preoccupied with. Not the ones where the rogueish Mr Toad and pals have watery adventures or escapades in the Wild Wood.
Daniel Start's "Wild Swimming France" arrived at just the point where encouraging adventures in the great outdoors that aren't criminally biased seemed appealing. And just as his original "Wild Swimming" had me dreaming of swimming along lovely meandering rivers and catching crayfish in Oxfordshire, this wonderful new book has me planning camping trips further afield.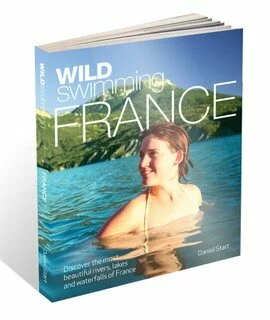 The "clues" in the wild hills around Nice appealed immediately, especially as the pictures of jade-green natural plunge-pools surrounded by brilliant-white dolomite rock are so amazing. But as Daniel points out, in France there are over 1300 "official" river beaches:
"Its rivers are so numerous that French departements are named after them and three major sets of mountains ensure there's plenty of crystal clear water to keep them flowing.."
So the book focuses on the southern half of France, but there are great ideas (including map references, where to park etc) for swimming in fabulous secret spots throughout the country. From rivers of Languedoc and Corbieres that open into enchanting fern-hung grottoes that "conjure up scenes from legend and folklore" to Lac D'Ilay, a shallow bottomed lake set amongst rolling hills that warms up quickly and so is perfect for families.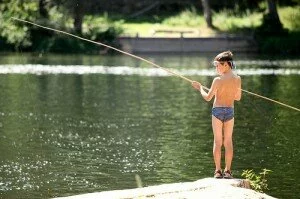 With gorgeous photographs, mainly taken by Daniel, this is a lovely book to look through. But it also has lots of practical information for planning trips. There's a section on ways to be wild and safe and chapters on family-friendly swimming and paddling places, where to buy picnic supplies and campsites.
For the more adventurous, there are plenty of ideas for challenging wild adventures in dramatic gorges and canyons plus tips on where to skinny dip, leap into deep pools and wild camp.
I'm just excited that this book gives me some wonderful ideas for holidays where my daughter can think she's in fairyland and I can swim in azure water then picnic on delicious bread and cheese. I can daydream about it anyway. Rather than planning a family trip to the local courtroom.
All photos in this blog are copyright of Daniel Start at www.wildswimming.co.uk