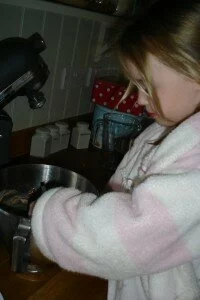 Our first half term holiday since Ruby started school and I'm really savouring it. It's so good not to be nagging her in the morning to get dressed, brush teeth, eat breakfast, have hair plaited. So great to have time to play, cook and make things with her when she's not overtired. And lovely to be able to pull our wellies on after breakfast and wander into the garden in our nighties to find beetroot because we fancy baking chocolate and beetroot brownies.
Ruby was keen on 'a making day' today and her initial ideas revolved around bits of gold paper, old sweet wrappers and copious amounts of cellotape. Very happy to encourage this sort of making, I also managed to sneak in a bit of the edible sort. Halloween biscuits of course and a few of the crisps I always make at this time of year. These work well with parsnips and beetroot too but this week it has to be pumpkin. Well. butternut squash to be exact – it's normally tastier, less watery, and I love the leftovers in thai curry or noodles.
This isn't really a recipe – just a simple suggestion that seems right for Halloween week, generally goes down well with children but feels fairly healthy for parents. All I do is peel a butternut squash, shave crisp size pieces of it with a potato peeler and fry them quickly in hot oil (I use local rapeseed oil). Drain on kitchen roll then try not to eat them all yourself before your children get their hands on them.
I rinse the seeds from the squash, leave to drain and they can be cooked in a frying pan with a little olive oil or rapeseed oil, then given a tiny sprinkle of tamari sauce for another tasty snack.