While cooler evenings have some people hankering after a warmer duvet or hot water bottle, for me it's curry.
Maybe it's the lack of Asian eateries in the area I live; it's extremely rare that I crave city living, but mention London at the moment and I'm thinking wistfully of Vietnamese, Japanese and Thai restaurants. Or perhaps the colour and spice of exotic food bring a little warmth to those particularly grey, chilly days.
Thinking of the Nasi Goreng that was the first dish I cooked with the meat from our Berkshire pigs or the Friday night Sri Lankan curry I made, it's also that subtly spiced food is just so tastily addictive!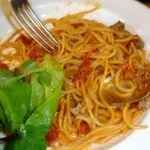 My greed isn't limited to Asian food either – my current culinary hunger has led me to Spanish, Italian and Morrocan recipes too. Our very tasty pork has been made into a quick fridge chorizo mix (a great Hugh Fearnley-Whittingstall idea, you mix pork mince with chorizo flavourings and it keeps in the fridge for a few weeks) that adds quick Spanish flavour to all sorts of dishes. For my birthday supper I fried little balls of it with scallops and served with rocket from the garden and a broad bean and mint puree. When my lovely friend Sara visited recently, I cooked little chorizo meatballs to go with pasta and tomato sauce. Ruby is now a big fan of them too.
Having kept Berkshire pigs, I'm extremely keen to appreciate every morsel of the meat. Rearing  older breeds of pigs with plenty of space to root, lots of vegetation and organic feed is great fun, feels right and results in very tasty meat but it's expensive. It's concentrated my mind on making good use of the tasty meat and I'm finding that Spanish, Italian and Asian recipes are great for this. Whether it's making my own pancetta (a quick 5 day cure of some pork belly, then chunks of it freeze well) and using it sparingly in pasta and quiches, or using little bits of leftover pork in stir-fried noodles, it's so satisfying to eke out good meat in this way. Adding plenty of pulses and home-grown vegetables makes the meat a lot more economical and it feels healthy too. Luckily using the salty liquor that a ham has cooked in to cook a lentil dish for the following day or cooking a cassoulet slowly on the woodburner fits with Autumn appetites.
All this culinary globe-trotting may sound exhausting but it mainly involves some pottering in the kitchen, enjoying the warmth of the woodburner on dark evenings. And the thing that brings all this far-flung escapism together is some simple gathering of home-grown or local ingredients. Obviously home-reared pork, but plenty of vegetables from the garden too. I often wonder if other gardeners around here are daydreaming of pad thai or Indian style stir-fried rice while harvesting carrots and runner beans. I find that using some chopped lemon balm instead of lemongrass is great for adding lemony fragrance to thai dishes while saving food miles – or is it that I can't be bothered going to the supermarket?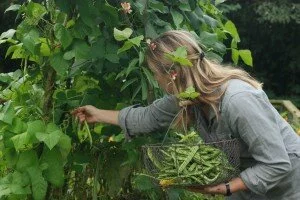 I buy wonderfully tasty and well-reared chickens from Great Farm, near Fairford (www.greatfarm.co.uk) and although they're not cheap, we get so many meals out of them. Classic roast chicken, then I make a stock from the carcass that makes fabulous risotto with some vegetables and herbs from the garden. Some stock goes in the freezer and the next week I'll gather garlic, chard, chillis (all 2 of them, I can't claim to be an expert chilli grower just yet) and make a thai noodle soup, maybe adding coconut milk for a laksa.
Even I can grow a plentiful supply of chard and I find it's great in place of pak choi (grows well too in our climate but you need to choose yout timing to avoid bolting) in Asian dishes. I recently used it in a stir-fry with squid and thai fish sauce, the stalks providing a lovely crispness against the savoury wilted greens and tender squid.
Anyway I must go, my basket of potatoes, carrots and beans is making me think of adding a little fish and spices for a Morrocan tagine. Of course I don't want to escape from the Cotswolds in the Autumn, there's walks in the lovely woods and blackberrying to enjoy. But when it's drizzling, surely half an hour being transported to an exotic souk doesn't hurt?
Recipe for Nasi Goreng:
450g rice, cooked and refrigerated overnight.
225g chopped prawns
225g minced pork (or you can use shredded pieces of leftover roast pork)
3 eggs
chopped spring onions (or I use Egyptian walking onions from the garden)
3 chillis
1 clove of garlic, peeled and chopped
1 teaspoon shrimp paste (optional)
2 tsp soya sauce
1 dessert spoon water
1 dessert spoon worcestershire sauce
1 teaspoon chopped prawns
Chopped tomato and cucumber, coriander (grows easily), lime wedges.
Mix chilli, shrimp paste and garlic to a paste in pestle and mortar. Add oil to a hot wok or pan. Add the beaten eggs and push up to form a large omelette. Cook for a minute then flip the egg over for a minute on other side. Cool and slice into strips. Add more oil and stir-fry the pork and half the curry paste on high heat until pork cooked. Take it out and stir-fry the prawns and remaining chilli paste until cooked, with onions. Add rice to the wok and cook for 4 – 5 minutes until reheated. Add 1 tsp brown sugar and soya sauce and toss until the rice coated. Add pork and prawns and heat through. Season well and top with egg strips, cucumber and tomato. Serve with lime wedges.