The cooler, dewy mornings are tempting me into weekend baking. There's something very comforting about pottering about in pjs, cooking something simple and wholesome  while a coffee pot warms on the woodburner.
Also, my daughter isn't a big fan of breakfast. It's often a real effort to ensure she has something healthy to give her enough energy to start the day. So rather than resorting to coco pops, I thought getting her involved and experimenting with new recipes was worth a try.
I made some oat cakes first of all, with oats and wheatgerm as ingredients yet 'cake' in the name, they proved healthy enough for my liking and, with a good dollop of damson jam, irresistible to Ruby.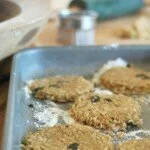 This morning we baked banana and date bread together. While it cooked, Ruby and I nipped into the garden, still in our nighties, to pick raspberries. Back in the kitchen, I gave her little bowls of oats, greek yoghurt and honey to mix us all raspberry breakfast pots. The 'pick n mix' novelty worked a treat.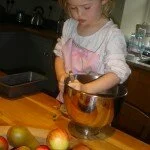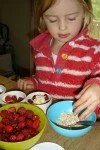 We have banana and date bread left to toast tomorrow and maybe it'll all go downhill after that but I loved the excuse to wander around the garden in our nighties, coming back inside to the warm smells of baking.
Recipe Date and Banana Loaf
160g Chopped dates (I have substituted these for sticky prunes too, and result was delicious)
2 bananas, mashed
2 tablespoons unsalted butter
1/2 teaspoon bicarbonate of soda
170g unrefined cane sugar or caster sugar
1 egg
250g self-raising flour, sifted
1 teaspoon baking powder
Preheat the oven to 180C (350F/Gas4). Grease and line a 10 x 20cm loaf tin with baking paper.
Put the dates, banana, butter, bicarbonate of soda and sugar in a bowl. Pour in 250ml boiling water, stir to dissolve sugar. then leave to soak for a few minutes. Stir the egg through, then fold in the flour and baking powder.
Pour the batter into the prepared tin and bake for 45 minutes, or until a skewer inserted into the centre of the loaf comes out clean. This is great still slightly warm, just in thick slices. You can butter if you like or, if there's any left, toast it the next day.