In my garden…..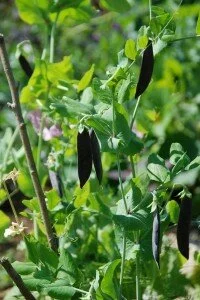 ….there's suddenly so much to eat! Yellow and green courgettes threatening to grow into marrows every time I look, dark purple beans and lots of broad beans. New potatoes and beetroot are reaching gigantic proportions. Plenty of salad too.
In my garden there's been ten days of neglect. This is my only excuse: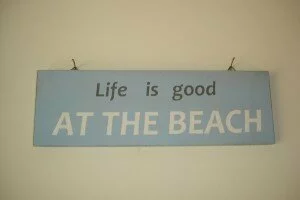 We had a wonderful time staying in our friend's 1960s beach chalet on the Lyn peninsula in Wales (more of this to follow in the next blog post) and when we returned the garden had gone crazy. Mother Hubbard squash had turned into triffids, the calendula were intent on conquering the garden and purple orach was erupting everywhere: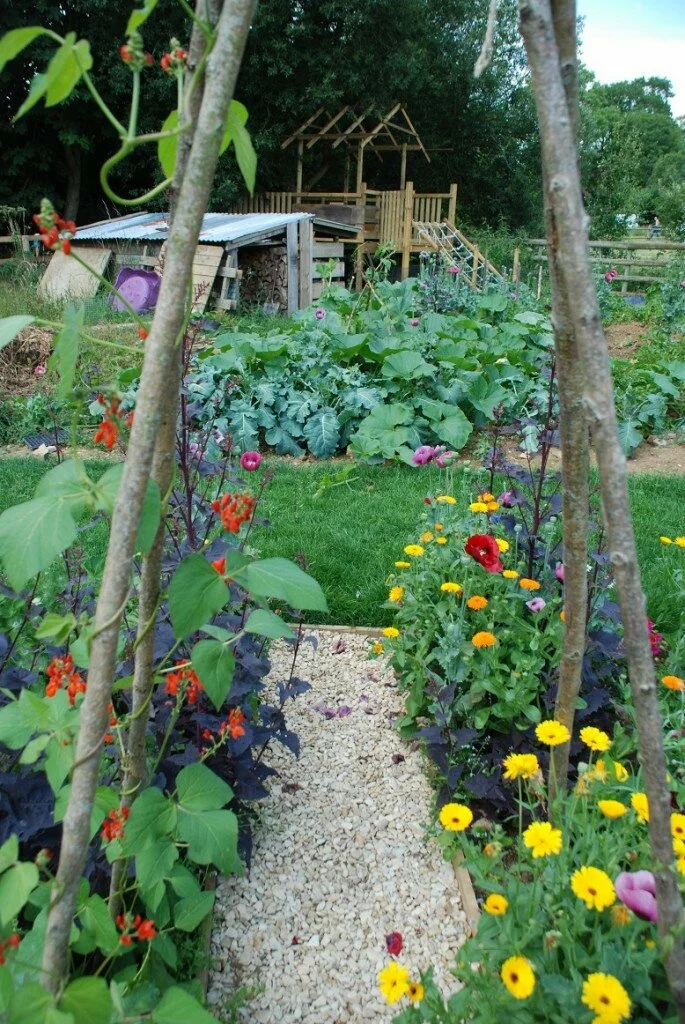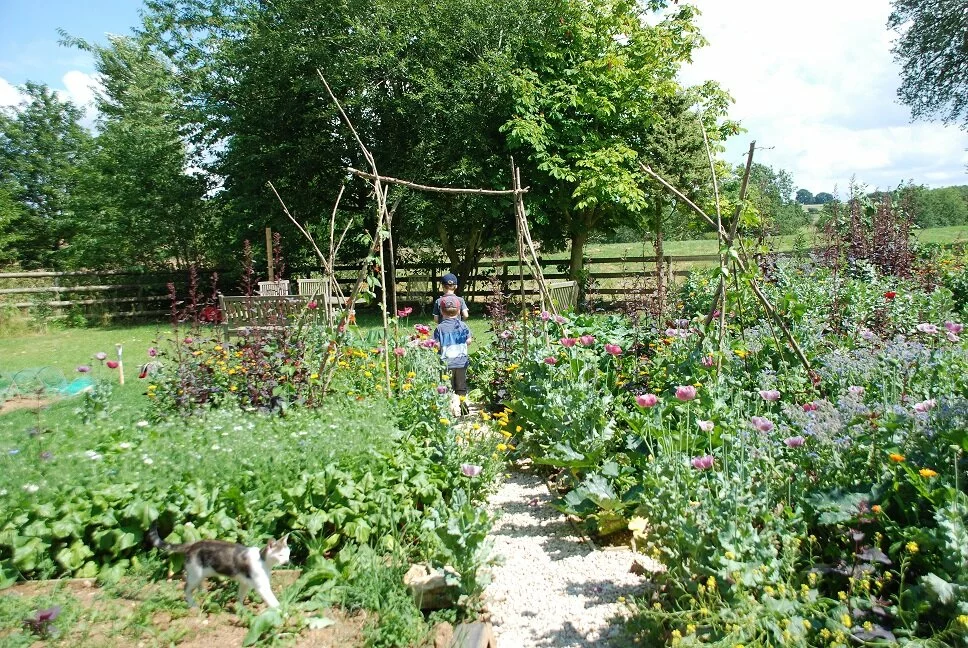 In my garden this month I've been spending a few evenings since we returned attempting to tame a few things. Although I do love my crazy mix of flowers and veggies and and can't resist the prettiness created completely accidentally by self-seeders that I can't bring myself to pull up:
The bees and butterflies seem to be loving both the planned and accidental combinations too, I can't believe how many I've come back to:
 Of course some of the visitors aren't as welcome: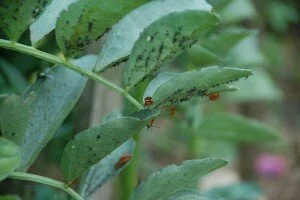 Some of the broad beans are being attacked, others are perfectly healthy. I'm hoping my blocks of different varieties in different spots around the garden will help to ensure I have lovely beans for a while longer as I'm very partial to them in pasta and on bruschetta. I'm on daily caterpillar hunts in an effort to save my brassicas too and have to keep reminding myself that this happens every year and they always somehow survive the cabbage whites.
In my garden this month…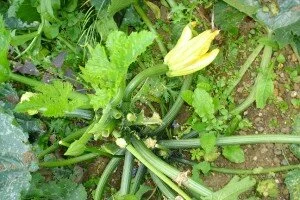 there's a bald courgette. I'd been talking about de-heading flowers with Ruby. She was horrified at the jungle that had erupted around the bean that she's very proud of (planrted at school) and I said that she could use her scissors to trim back her purple orache and snip the heads off a few calendula. Happily getting on with my own trimming, I suddenly noticed that her courgette plant was a tad sorry for itself.
My instructions were obviously not quite detailed enough. Oh well, at least we have plenty of other courgettes.  It does make me smile though whenever I stumble upon the poor bald courgette plant. I may kid myself that I'm exerting some sort of control in the garden but as I look at the self-seeded calendula spreading across yet another area, view the tangles of weeds, and see the results of my daughter's confident snipping, it's quite evident that it's not me who's the boss out here!
In my garden this month….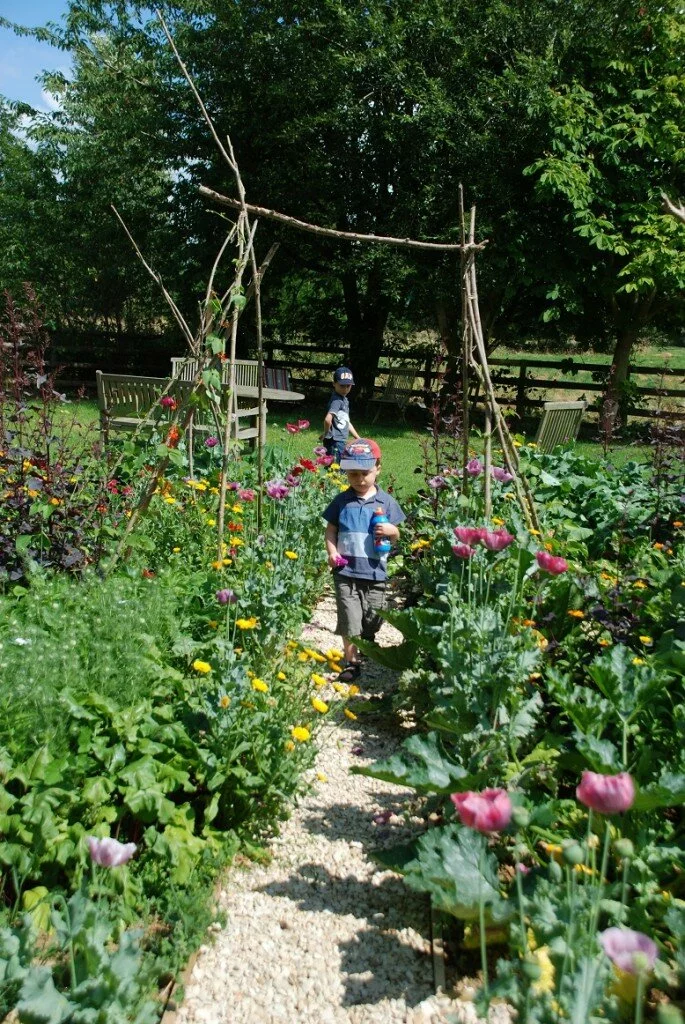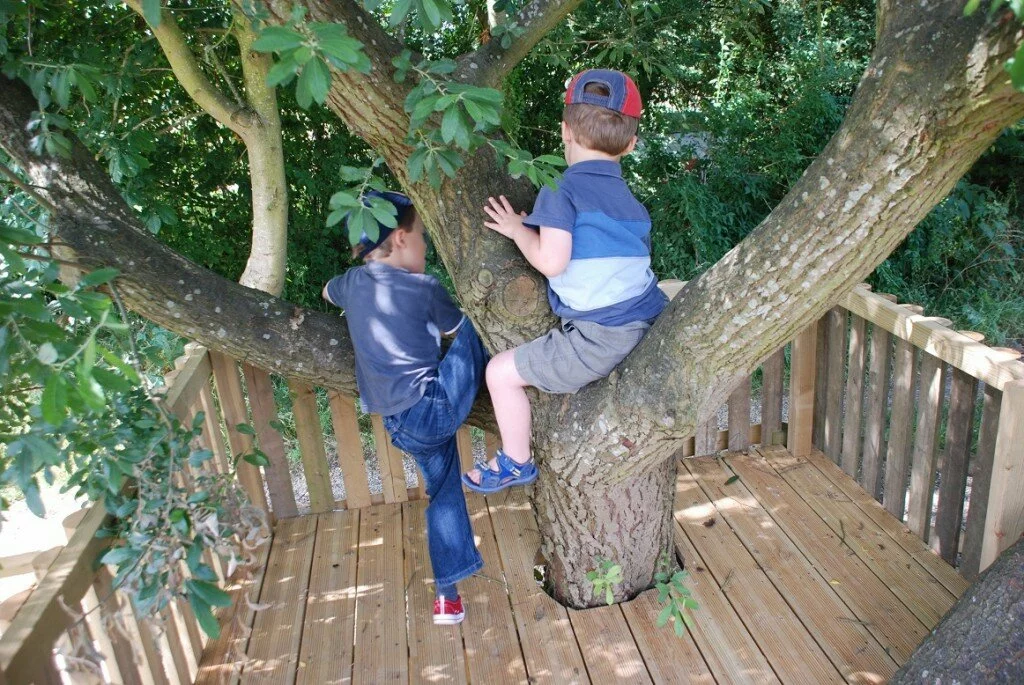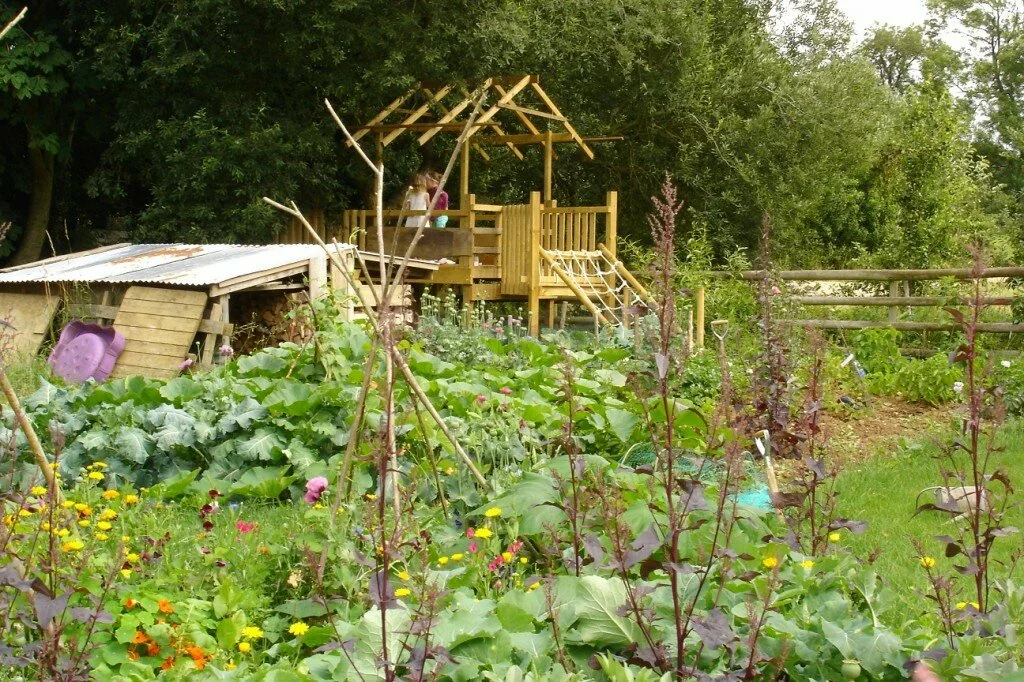 ….there's been lots of playing in the treehouse and around the new paths and rustic wigwams. The treehouse still needs a roof and sides, the runner beans still have to complete their growth up the arches that curve over the paths but it doesn't seem to be bothering Ruby and friends who are getting on with enjoying it all. Grown-ups have even been invited to sample the luke-warm, very murky mint tea that's been made up in the tree-house. Not an activity I'd recommend unless you have an incredible immune system.
The children are reminding me that this is definitely the month to make time to enjoy it all. I hope I can manage to stay shoddy in my gardening, enjoy the imperfect chaos and find time to leave my tools like this: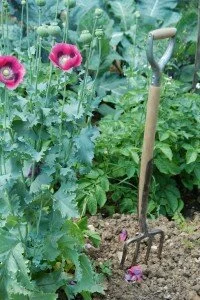 Maybe on these lovely hot summer days, I should even take a tip off Mog: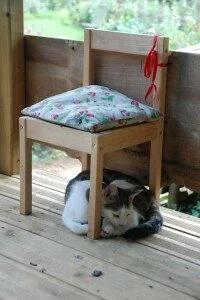 Having really enjoyed having a look at other people's gardens around the world, I'd love to include this in Lizzie Moult's lovely garden share collective.