Having experimented with Labneh, Paneer and ricotta, I'm beginning to understand Miss Moffet's fixation. Curds and whey can become addictive; the fact that all you have to do is heat milk, add lemon juice, whey or rennet to encourage the curds to form and you have a delicious (sometimes!) soft cheese is so satisfying. It's a great activity to do with children too – quick, easy and you can eat the results.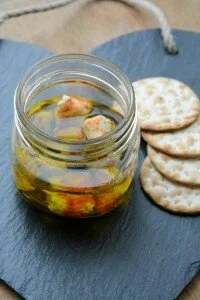 Having a tub of ricotta made in December submerged in brine and a few jars of labneh preserved in olive oil is also proving very useful in my January frugal food plan. Noticing the jars of preserves, freezer still full of broad beans and fruit (from our summer gluts), lamb and pork plus leftover turkey, I'm on a mission to eke it all out with the jars of pulses and make good use of what I've got rather than shop for more. The root veggies, brassicas and still lush parsley in the garden are coming in handy too.
The feta that I made before Christmas is very salty, softer than bought feta but great to use sparingly to add flavour and texture to lots of meals. This is how I made it:
Feta style cheese
Ingredients
5 ½ litres fresh raw or pasteurised goats milk
1 tablespoon made up cheese starter (see my post on basic cheese-making)
½ teaspoon liquid rennet dissolved in 2 tablespoons boiled, cooled water
Sea Salt
Clean all equipment thoroughly and scald. In a large pot, bring the milk to 32C, add the cheese starter and stir well. Add the dissolved rennet and stir vigorously. Cover the pot with lid or clean cloth and let it stand for 2 hours or until the curd breaks cleanly when you insert a knife.
Scald some muslin and line a colander, ladle the curds in, then draw up all 4 corners of the cloth, tying in a knot and hang over the sink or a bowl so more whey can drain for  24 hours. Untie and cut the cheese into blocks around 2 inches thick and the size of a playing card. Mine were not exactly uniform as you can see.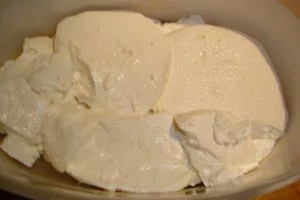 Sprinkle the cheese generously with salt and leave in a sterilized container with a lid at room temperature for 2 to 3 days to release more whey.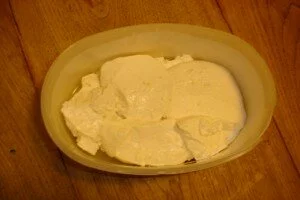 Make a brine by dissolving 3 tablespoons salt in 1.9 litres water and cool. Drain the whey into a clean container, add the brine and arrange cheese blocks in it. Refrigerate and it's ready to eat in 2 weeks. Kept submerged in the brine it should keep for months in the fridge.
We bought half a lamb from a local smallholder at the beginning of December and I cooked a leg of it for family over the Christmas holiday (rubbed with garlic and rosemary, cooked slowly over slices of potatoes and onions covered in foil). It was delicious but as usual I've almost enjoyed the leftovers more.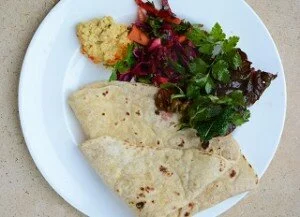 Slithers tucked into flatbread cooked on the wood-burning stove with labneh, houmous and beetroot, lime & chilli salad were lovely but I also had a little portion of the cooked lamb stashed in the freezer. Little nuggets of flavour and protein ready to be added to garlicky tomato sauce and heaps of healthy parsley from the garden for Turkish style flatbread pizzas. Slithers of onion, a squeeze of lemon and a sprinkling of chilli added flavour too.
I was inspired by the Lahmacun (Turkish Pizza) recipe in one of my favourite books, Casa Moro. Sam & Sam cook their lamb from scratch rather than using leftovers and use fresh tomatoes (would be lovely in season). I added my feta and a sprinkling of cumin too.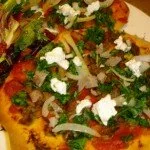 Turkish Style pizza
1 quantity of the flatbread dough here.
300g leftover cooked lamb, chopped into tiny nuggets
1/2 small onion, grated
1/4 teaspoon allspice
100ml water
sea-salt & black pepper
1 400g tin of tomatoes
3 tablespoons olive oil
3 garlic cloves, sliced
A handful of roughly chopped fresh parsley
Feta cheese crumbled or the labneh here.
1/2 onion sliced
Chilli flakes
1 or 2 teaspoons cumin
1 lemon, quartered.
Put the grated onion, allspice and water in a saucepan and cook for 10 minutes, then add the lamb and cook on a low heat for a further 5 minutes, adding salt & pepper to taste. To make a tomato sauce, heat the olive oil, add the garlic and as it starts to colour add the tomatoes. Simmer for 1/2 hour or so until you have a thick sauce, adding salt & pepper to taste.
Preheat the oven to 220C, divide the dough into four little balls (I made some smaller ones too to tempt my daughter) and roll out each piece into a rough oval a few mm thin.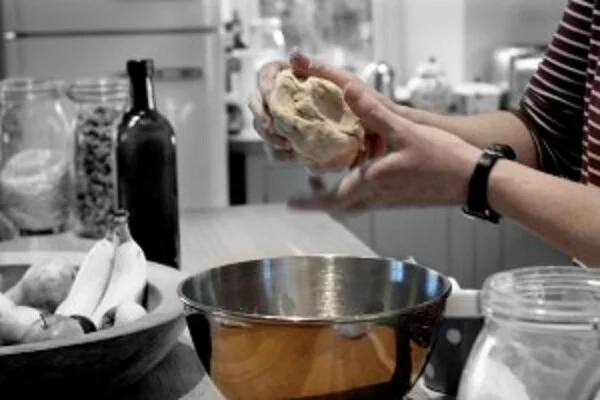 These don't have to be as thin as Italian pizzas, think flatbread. Place on baking sheets or pizza stones, spread with tomato sauce and sprinkle with lamb. Cook for 10/12 minutes until the bread is cooked.
Chop parsley, put cumin in a little pot and let everyone crumble feta over their pizzas and help themselves to onion slices, lemon, cumin, parsley and chilli.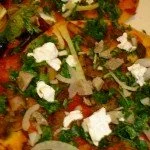 Would love to include my Turkish pizzas in January's Cheese Please challenge, hosted by the wonderful Fromage homage. This month's challenge is Comfort Food and Winter Warmers, should be a great place for cheesey inspiration.