On Friday afternoon we picked Ruby up from school and, after giving her chance to change into a pretty dress, headed straight off for afternoon tea at the fabulous Dormy House hotel.
It had been one of those grey, rainy days when the only time I'd ventured outside was to grab a bundle of logs from the wood-store. A perfect day for afternoon tea. Especially as it was in one of the lovely rooms in this revamped 17th century farmhouse that manages to be both indulgently glamorous and very relaxing; comfortable sofas face the fire, retro lamps give a lovely glow and our window table was beautifully laid with crisp, white linen.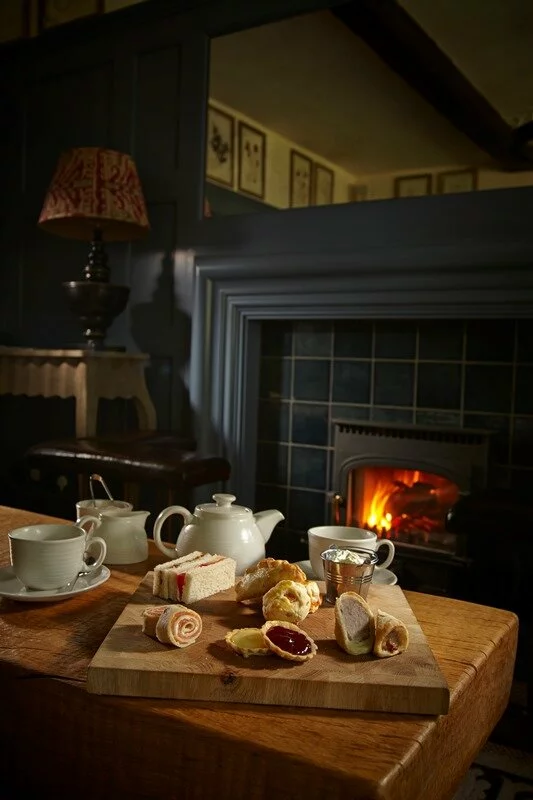 Dodie Smith in one of my favourite books, I Capture the Castle (more shabby castle chic than farmhouse) sums up the cosiness of afternoon tea:
"I shouldn't think even millionaires could eat anything nicer than new bread and real butter and honey for tea."
Our afternoon was just as cosy but a bit more substantial than this. I was in the mood for the Lazy Afternoon, a classic afternoon tea including cucumber and smoked salmon sandwiches, pin wheel wraps, deliciously light homemade scones with preserves and mini cakes and tarts.
Guy's chose the Farmhouse Tea which has more of a savoury bias and was perfect for an Autumn afternoon with its homemade butternut squash scones (obviously suggesting to me another use for my home-grown Mother Hubbards) sausage roll and mini pasty. There was lots of swapping and I can confirm that it was all delicious. My 'homemade' descriptions above are a little unnecessary for specific items too. Pretty much everything here is homemade from the preserves to the decadent little cakes and tarts.  I loved the fact that even the smoked salmon in the sandwiches is smoked over oak shavings in the kitchen of Dormy.
This lovely old hotel has only recently re-opened after extensive renovations and I love the mix of Cotswold stone walls and flagstones and an abundance of 17th century features mixed with contemporary touches, including lovely light flooding into the fabulous Garden Room restaurant. The Potting Shed bar is a cosy place to linger over a drink and I would love to have an excuse (a special birthday or family occasion) to fill the Tack Room with friends and family. The bedrooms are gorgeous too and I get the feeling that every little detail is thought through and done well here.
All in a very friendly, informal way too; it immediately feels as if you're enjoying a glamorous treat when you enter Dormy, yet you would feel very comfortable kicking off your shoes and making yourself at home on a sofa too.
We did in fact. After Ruby had lingered over her Sticky Fingers afternoon tea, savouring every single crumb. Well, apart from the ones scattered around our table.
The presentation of her afternoon tea was as beautiful as ours, she was truly wowed by her jam fingers, scones, cookies, cake and strawberrry smoothie. Her verdict was:
"It was ALL yummy."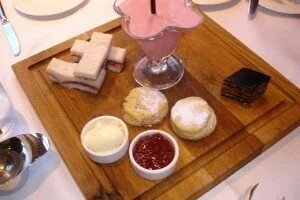 And she solved the classic scone dilemma; instead of deliberating over whether the clotted cream or jam should go first, piling it all up to create a sort of volcano effect.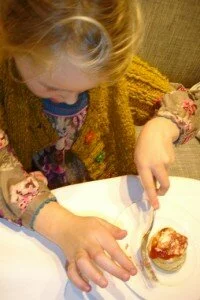 In the meantime, I enjoyed more of the very lovely Earl Grey tea, agreeing with Samuel Johnson that:
"Sir, I did not count your glasses of wine, why should you number up my cups of tea?"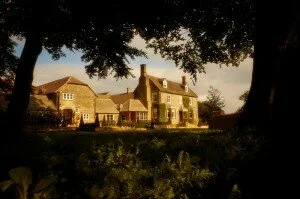 With lots of thanks to Dormy House for a wonderful afternoon tea. Our afternoon tea was complimentary but I wasn't paid for this review; all rambling opinions are very definitely my own.