Apples seem to be everywhere this month. Little rosy crab apples are urging me to make chilli jelly, we have bowls of nutty russets from my mother-in-law and cooking apples are being made into apple sauce, partly for my home-made granola.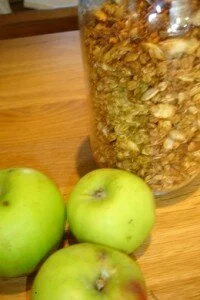 I have to admit that our own apple harvest will be exactly one large cooker. A generous sized cooker, one that Ruby has ambitious plans for;we read James and the Giant Peach recently and she's christened it the Giant Apple. But still, just one apple.
Although our own apple trees were only planted last winter, we live in an area where there's no shortage of apples.  The village that Ruby goes to school in has orchards right in the middle of the village and everyone's garden seems to have a plentiful supply. I drive past the village church every morning and see apples falling on to the pavement. Sometimes I treat myself to a walk up the hill after school drop-off and apples litter the foot-path.
In recent years many of the apples in the villages around us seemed to go to waste. Lovely then that our nearest pub, The Ebrington Arms organised a family apple pressing day recently in their garden. It was one of those wonderfully bright, golden Autumn days (before the grey fog and drizzle!) and lots of people turned up with bags, baskets or wheelbarrows of apples to be juiced. Children held cups under the fruit press to have the first taste of the juice from their own apples.
We came away after a lovely afternoon with bottles of apple juice (from Granny's apples) and two demi-johns of toffee coloured juice which will hopefully be cider. It seems to be bubbling away nicely under the stairs at the moment.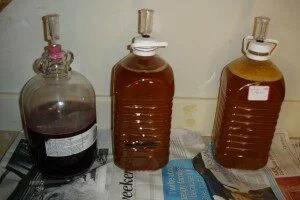 My thoughts also turn to apple cake though at this time of year. Particularly when I walk across the fields to visit our Icelandic friends and glimpse the orchard next to their home.
A couple of years ago we borrowed an apple press from friends and had our own juicing session in our garden. We were joined by our Icelandic friends and their Rome-dwelling, contemporary opera-singing visitor Gulla who turned out to be super-human when it came to operating the apple press. She squeezed more juice out than we thought possible and, having previously joined in wine-making festivities in Italy, became just as enthusiastic about anything to do with apples. In fact every time I visited our friends that Autumn, Gulla seemed to be either picking apples in the orchard, juicing them, fervently peeling them or baking apple cake.
Her apple cakes were delicious, always different variations on a theme, sometimes with added almonds, maybe with vanilla adding to the flavour. I couldn't pin her dowh to a recipe of course; Gulla seemed to be the sort of instinctive cook I envy who didn't stick to any precise recipe, just adding what she felt like each time.
So the recipe for this apple cake is one I've baked in Autumn for years, is handwritten scruffily and I originally copied it from my Mum. Inspired by Gulla I do vary it according to mood, sometimes using wholemeal self-raising flour, sometimes substituting some of the flour for ground almonds if I have them to hand. A few drops of vanilla essence don't go amiss either and sometimes it's nice to add raisins or other dried fruit. Either way, it's a very easy, bung it all in sort of recipe. The apple keeps it nicely moist and it stores well in a tin. A great one to bake with kids and, although it takes quite a while to bake (filling the kitchen with a lovely, comforting cinnamony aroma) it occupies very little time for the actual making.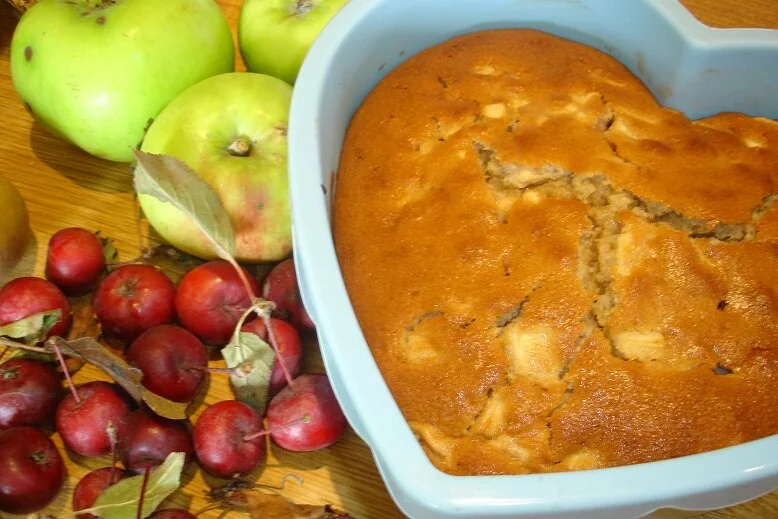 This time though, I made it without Ruby. Remembering the recipe came from my Mum, I also have memories of her baking cakes for us to come home from school to. Reminded of this, I thought I'd treat Ruby to cake still warm from the oven after school. Normally I feel she's too young to be able to scoff cake and still eat a healthy dinner. But she needed extra energy for dancing, it's been cold, foggy and drizzly for days and I thought we all needed a treat.
Apple and Cinnamon Cake
300g self-raising flour
1/2 teaspoons cinnamon
1/2 teaspoon salt
250g soft brown sugar
125g unsalted butter, melted
2 large eggs, beaten
175 ml milk
250g apples, peeled, cored and chopped. This time I used 1 large Bramley & a couple of russets but I vary cookers & eaters, depending what's to hand.
Sift flour, cinnamon and salt, stir in sugar. Mix in melted butter, eggs, milk and apples, beat until smooth. Turn into a lined and greased tin (a 20cm square tin or equivalent) and bake 180C 1-1 1/4 hours until a skewer inserted comes out clean.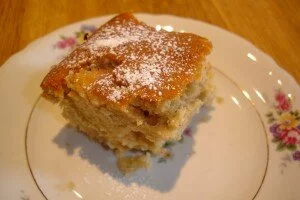 And actually, who am I kidding that it's all about after school treats. This cake is of course lovely with a coffee too. Or warm with ice-cream or greek yoghurt as a pudding.