June seems a month that's so suited to nostalgic English pleasure somehow. Gooseberries and strawberries ready for picking, asparagus still to be scoffed, elderflower cordial to be made and lots of village fetes and bunting beckoning. So when I offered my Mum and Dad sandwiches, strawberries and cake last Sunday afternoon, it had to be a Victoria sandwich.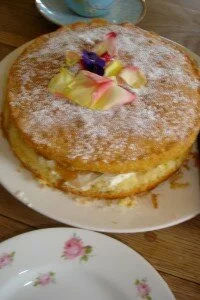 Sort of a classic but with a filling of my rhubarb and rose jam and sweetened mascarpone.
With so many lush herbs I couldn't resist experimenting with some lemon balm too, so I lined the cake tin with lemon balm before pouring in the cake mixture. I wanted a subtle flavour, but maybe could've added a few more leaves. Would love to experiment with angelica and sweet cicely too, especially with a gooseberry or rhubarb filling.
The rose petals scattered on the cake were inspired by the jam, but I have to admit they were also an attempt to ingratiate myself with my daughter. Ruby had been to stay with Grandma and Grandad for the Saturday night and we'd had a very decadent, selfish time of freestyle gardening, treehouse building (more on that in a later post) and a lovely evening walk across the fields into Chipping Campden for Hook Norton and curry at the Noel arms.
I had that feeling of being very relaxed after just pleasing myself for a day and a night, mixed with really missing my daughter and feeling that the house was so quiet without her. Knowing that although I was going to be so pleased to see Ruby, she'd have been so nicely spoilt by Grandma and Grandad, I decided I'd lure her back with cake. My daughter is quite addicted to flowers at the moment:
So rose petals and violets scattered on top seemed a good idea.
The cake was a standard Victoria Sandwich:
175g self-raising flour
175g butter, softened
175g caster sugar
3 eggs, lightly beaten
1 tsp vanilla extract
The oven was pre-heated to 180C. The two 20cm sandwiches tins were greased & lined before being scattered with lemon balm leaves.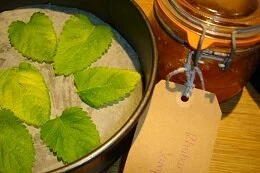 I beat the butter and sugar (well the KitchenAid did!) then added the eggs one at a time with a tablespoon of flour, then the vanilla extract. I sifted the rest of the flour in then folded it in. Divide the mixture equally between the prepared cake tins then bake for about 25 minutes until the cakes are lightly golden and spring back into shape when gently pressed with a finger. Leave to cool a little before turning out onto a wire rack to cool completely.
I then mixed a tub of mascarpone with a spoon of vanilla sugar (taste to see if sweet enough) and spread 3/4 of it over one of the cakes. The remaining sweetened mascarpone went in the fridge to be enjoyed with the now plentiful strawberries from the garden over the next few days.
A few tablespoons of rhubarb and rose jam were then spread over the cake, the top was sandwiched on top and I siifted a little icing sugar over before scattering a few petals.
Ruby made lots of "mmm" noises as she scoffed cake, it seemed to be enjoyed by everyone. But she still asked if she could have "just one more night" at Grandma and Grandad's!
This is very simple to make and uses rhubarb and lemon balm, two very seasonal ingredients, so I'm entering my cake in Ren Behan's lovely Simple and in Season.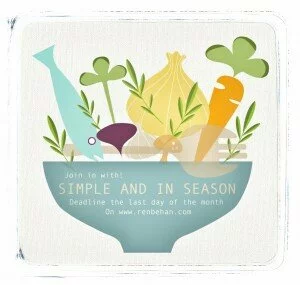 As we're coming into village fete season, surely the good old Victoria Sandwich cake is seasonal too!