With several girls coming round to play and lots of edible flowers in the garden, I couldn't resist having another go at cake decorating with petals.
I picked the first courgette of the year and the first purple carrot (Ruby and I are both quite partial to unusual coloured veg) to grate into the cupcakes. Well, if they're going to be covered by a sweet, pretty topping, I may as well sneak some extra goodness in.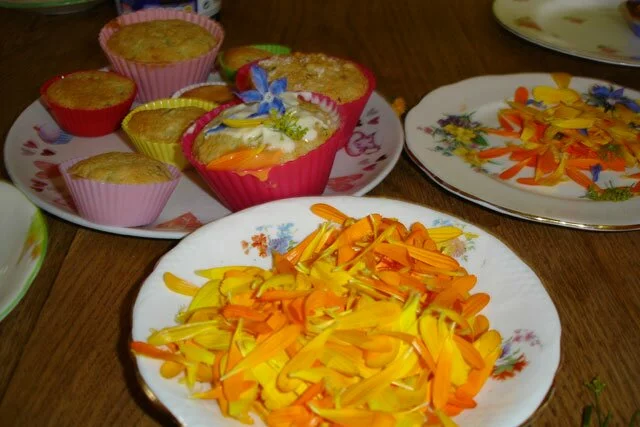 For the icing, I mixed some icing sugar and a squeeze of lemon into cream cheese until it was a spreadable consistency and tasted nice. Then we all picked calendula, little blue borage flowers, lavender, nasturtium and umbels of tiny yellow dill flowers. Pulling the petals off calendula onto pretty plates ready to be reassembled on the cakes seemed to go down well.
As did the decorating. Icing was spread, petals scattered, sometimes even carefully placed and the results started to look very attractive. I was amazed that nobody remembered the 100s and 1000s in the drawer or the lurid icing colourings stashed in a cupboard.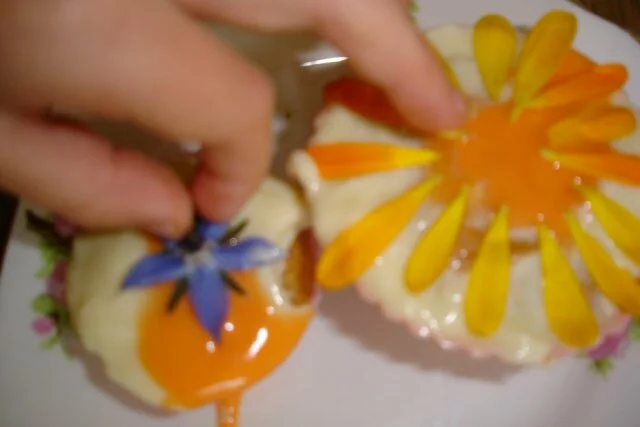 Obviously it didn't last long, the less is more decorating techniques soon descended into scattering a whole saucer of petals onto a heap on the cakes. The girls ran off with sticky fingers around the house and I was left with the calendula strewn cushions on the pew they'd sat on.  But I was also left with a few cakes, a bit of the cream cheese icing and quite a lot of flowers to have a go myself in peace. Very satisfying and really quite tasty!