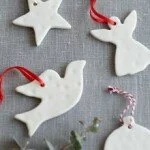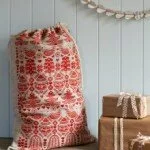 Stir up Saturday for us this weekend. We made the most of a rainy day to stoke up the woodburner and make the Christmas cake. This year we made Nigella's Christmas cake from "Nigella Christmas" but substituted some of the raisins and currants for dates, dried sour cherries and prunes. The long, slow-baking filled the kitchen with a warm, spicy fug, just the thing for a cosy afternoon. And sticky fingers moved restlessly around the house!
It focused my mind on Christmas preparations and although I don't put decorations up too early (lots of ours are natural and I know from experience that dead greenery around the house isn't too festive) I've been enjoying thinking of ideas for the pockets of Ruby's advent calendar. Which led me on to daydreaming about Christmas decorations.
I've been loving looking at the lovely decorations at The Original Pop up Shop, as above and below: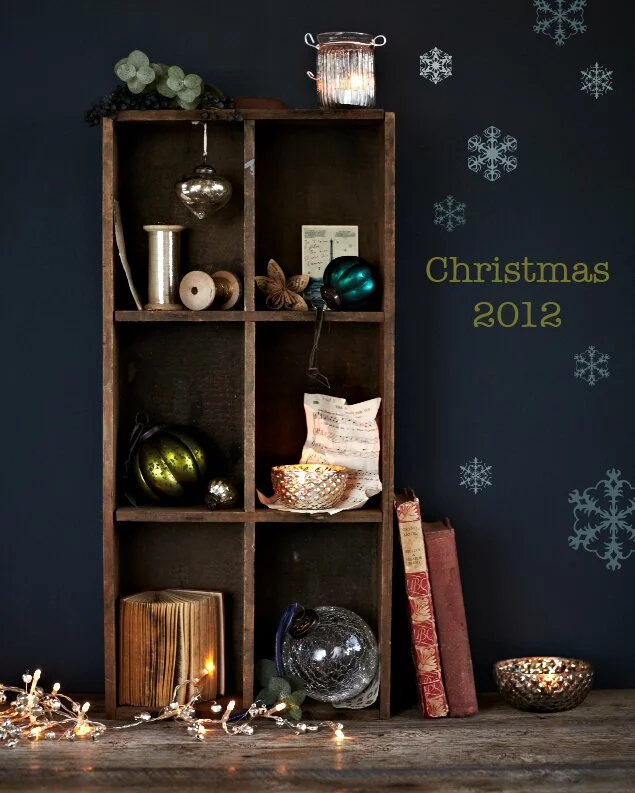 I know that Ruby, on the other hand, would love our house to be decorated like this: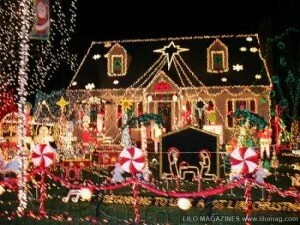 ln denial, I continued some indulgent browsing, enjoying the serene Christmas scenes at Cox and Cox, who are also great for creative ideas. I would love to make these: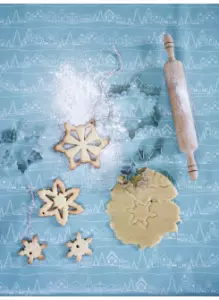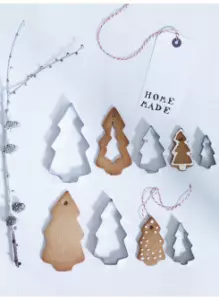 And I know I'm getting the balance of enthusiasm versus ability a bit wrong again, but isn't this fab: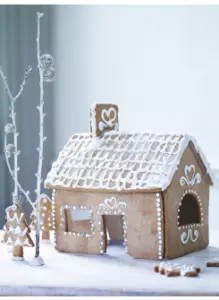 Back to The Original Pop Up Shop, I'm loving the almost Scandinavian style of their grey/blue backgrounds with simple white decorations:
Great with some splashes of red here and there.
The reality of my budget of course is that heaps of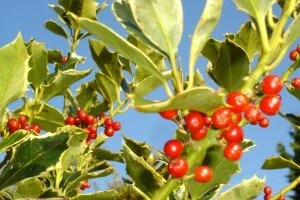 and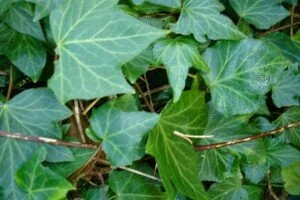 are more likely. And I love ivy curled around pictures (lucky as we have plenty of it, it seems to be the only thing keeping up the front wall of our garden) and big branches of holly and berries on top of the dresser.
Ruby of course has a penchant for less natural decorations: a gaudy bit of tinsel is what she thinks of as a proper decoration. Spotting heaps of gold tinsel in a charity shop last year, I of course indulged her.
She also loves making decorations. I'm thinking of making home-made crackers with her this year, saving loo roll tubes and thinking it would give me a chance to use paper like this: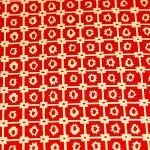 I love Emma Bradshaw's great ideas for pine cone firelighters that would add a festive aroma to a room with an open fire.  And I have high hopes of recreating some of the lovely decorations I admire in Cox and Cox: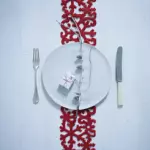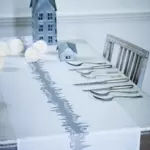 My mother-in-law has given me a long white damask runner that she's had stashed away in a cupboard for years. It should be the right size for our long, well-worn oak table (made by Guy) and which is the scene of copious amounts of baking, messy children's painting and making, salami-making and work. The nearest this hard-working table comes to being dressed up is having a constant sheen of glitter from our 'creative' efforts. But Christmas is definitely the time to spruce it up with a white runner and some home-made stars.
I try to opt for lots of free (from the garden and hedgerows) and hand-made decorations but splash out on one lovely, bought decoration a year. Last year was Ruby's felt Gisella Graham advent calendar with pockets which I fill with a mix of small treats (some edible), notes from me telling her we're going to do a particular Christmas activity, little tubes of gold or red glitter or edible decorations for decorating gingerbread/cakes etc. She remembers it from last year and seems pretty excited. Almost as much as her Mum is by putting together the bits and bobs to fill it.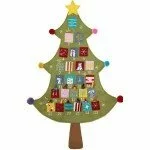 Some years our bought decoration is simply a pretty bauble. There are some lovely ones made by hand at local village hall Christmas fairs and markets. My wonderful Mum who has always been fabulous in her ability to get as excited about Christmas as any child I know, always buys each of her grandchildren a new bauble for the tree each year too.
This year I'm very tempted by this wirework chandelier from Cox and Cox: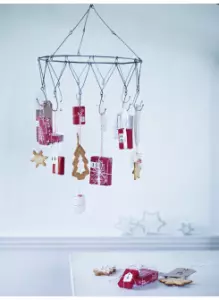 It's simple, not too expensive, but I think would look gorgeous with all sorts of handmade goodies hanging from it. And will give us lots of pleasure each year in making things to hang from it.
I'm also partial to pretty ribbon, twine and string and think that at £3.90 for 40 metres, this red and white baker's twine from pipii could be great to hang gingerbread decorations from and tie around presents in simple brown paper.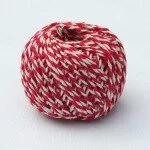 So I think our house is very unlikely to be one of pared down Scandinavian loveliness this Christmas or even have the fab retro vibe which I'm very partial to. It's more likely to be a hotchpotch of natural, glittery, home-made (some in very dodgy manner) and outrageously gaudy with a few tasteful decorations thrown in. I'm starting to get very excited about it.