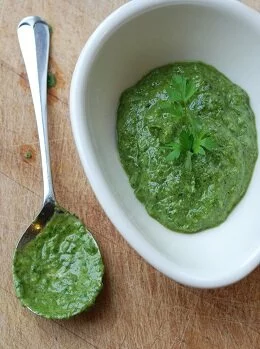 At this time of year, when there's still lots to harvest but winter beckons, my squirrelling instincts always set in. Squash are stored on shelves in the cool of Guy's work-shop, their seeds are being saved for granola and of course my shelves are groaning with preserves. As I look at the stored cob nuts and walnuts though, I fear that my squirrelling may becoming a bit too literal!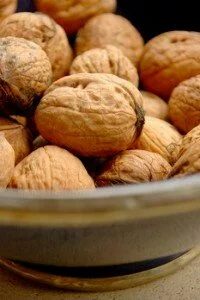 Still, these lovely local nuts are wonderful in my latest pesto combination. I find a jar of home-made pesto in the fridge so useful in lots of ways. First of all, it's a cunning way of feeding lots of nutritious greens to my 6 year old daughter, hence my enthusiasm for Kale Pesto in the winter and Wild Garlic Pesto in the Spring. Also, it's so quick to whizz up in the food processor, stores in olive oil for a few weeks in the fridge and offers an easy supper with pasta for those nights when there isn't much time or there's a shortage of food in the kitchen.
Due to my preoccupation/obsession with growing, cooking, eating, I have to admit the shortage of food bit happily doesn't happen often in this house. But I love having a spoon of lovely intense flavour to hand, so useful to stir into soups, add to bruschetta and tarts or anoint tomatoes with.
Just as I often use pumpkin seeds instead of nuts in pesto (you may of course even use the original and authentic pine nuts!) my herbs/greens vary according to what's tasty and plentiful. At the moment I keep casting glances at the lovely, lush parsley hedge. Wondering, as temperatures drop, how long it's going to be quite so abundant. Batches of pesto made with parsley can be frozen in small portions (I add the cheese after retrieving from the freezer if this is my plan) which seems to me a great way of squirrelling away this tasty herb while it's still abundant.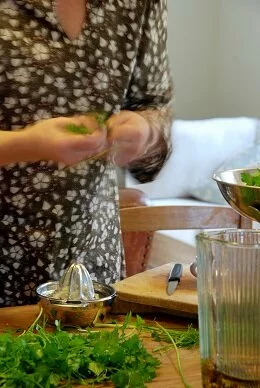 Parsley and Walnut Pesto
75g shelled walnuts
1 garlic clove, roughly chopped
50g parsley leaves
175 ml rapeseed or extra virgin olive oil
Juice of 1/2 lemon
Sea salt & ground pepper to taste
50g Grana Padano cheese, grated
Put all the ingredients except the cheese and salt & pepper in a food processor and blitz. Pour into a bowl and add cheese and season to taste. You may need to adjust the amount of oil, depending on the consistency. If you're freezing, add it to small freezer bags at this stage, adding cheese and seasoning after it's defrosted. If you're going to use immediately or store in the fridge, add the cheese and season to taste. It will keep in a jar, covered in olive oil for a couple of weeks.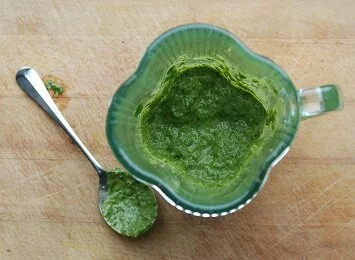 If you still have any tasty tomatoes to hand, they're lovely roasted with olive oil and eaten on top of pasta mixed with this pesto and some goats cheese. I also love Louisa of Eat Your Veg's recipe for roast mushrooms with pasta and this pesto.
Just dipping some good bread in a bowl of parsley and walnut pesto is yummy too. And having just read quite how rich parsley is in antioxidants, iron, Vitamin C and Vitamin A and how walnuts are an excellent source of healthy omega 3 fatty acids and monounsaturated fats, this is definitely nutritious snacking.
A great way of showing that parsley is so much more than a cursory garnish too!
The lovely photos in this post were taken by my friend Chava Eichner, who used some of this pesto with her very tasty looking squash and bean soup.
And as this pesto uses handfuls of parsley, would love to enter it into Karen at Lavender and Lovage's inspiring Cooking with Herbs.