I know it's early to think about the drinks for Christmas day but it is the eve of December. The advent calendar's up, I have the Christmas pud ingredients ready for Sunday – and I visited a great little cider shop yesterday.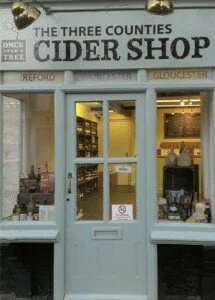 I'd already made a few trips to the lovely Dragon orchard where Once upon a Tree harvest fruit to produce their delicious juices, ciders and perrys. But their newly opened Three Counties Cider Shop was a great excuse to visit Ledbury, one of my favourite little market towns. I love the fact that on the one main street there's an eclectic mix of apothecary, traditional butchers, hardware shops that look as if they've been they've been there for years, an organic shop and  a great Cookshop, Ceci Paolo.
Ledbury is also surrounded by wonderful countryside with more than its fair share of orchards. In the Three Counties Cider shop you can see (and try) a tempting selection of cider, perry, juices and preserves from the orchards of Worcestershire, Herefordshire and Gloucestershire. Many are displayed in simple wooden crates and there's a good selection of draught cider (soon draught perry too) to take away in containers that you can bring back to refill.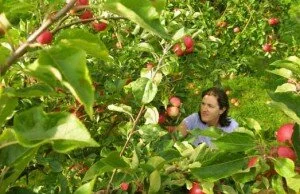 I couldn't resist a bottle of Blenheim Superb Dessert Cider to go with the Christmas pud. It's made with juice that has been frozen then thawed to intensify the natural honeyed sweetness. With spiced apple, orange and apricot flavours it's perfect to go with pudding, but I'm hoping there will be some left to go with strong flavoured local cheese.
Then there was the Putley Gold medium cider that seemed perfect for the Christmas ham – I reckon a little added to one of the hams from our piggies in the freezer when it cooks will be perfect. Not too much though, the cook will need a tipple.
Hannah, who lives next to the orchard that produces these lovely drinks, was happy to offer tastings and was able to talk me through the cider and perrys from Dragon Orchard but also the other producers. She had great ideas for food to go with the drinks too. I wouldn't have thought of pairing cider with Asian/spicy food, but now I'm convinced.
I'm also very tempted by a bottle of the Gregg's Pit  'Normandy Method' sparkling perry, subtle and clear but full of frut flavour. Very tricky to make, good perry requires obsessive attention to hygiene throughout the process. And unlike the mass-produced stuff it requires no additives, extra sugar or chemicals, just great perry pears, skill and patience. A great celebratory drink, the Gregg's Pit perry is really special – forget pear cider, to be quaffed in quantity, this is a gorgeous drink redolent of the orchard it comes from, to be savoured in a champagne flute.  I really fancy some for New Year or before Christmas lunch. Especially as I've seen the lovely smallholding where it's produced, with its majestic old perry pear trees. Food and drink is so enjoyable when you know the story of its production or the countryside that's entwined with it, isn't it.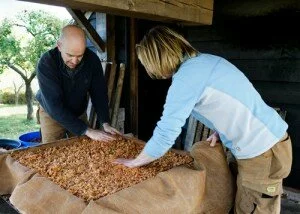 So it's great to see the Three Counties cider shop doing their bit to bring farmers/smallholders and customers closer together. It's made me very keen to enjoy great British drinks for the festive period.
Thinking a little further from home, there are some fabulous Somerset Cider Brandys that I have in mind too. Though I do need to nake sure I'm capable of doing the cooking.  And I suppose it's not ideal to blow the Christmas budget on booze before I've bought the presents either.