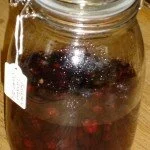 I can't resist the free fruits of our hedgerows at this time of year and blackberries have been made into sauce for ice-cream, added to Granny's apples for crumbles and pies and used to add a dose of vitamin C to yoghurts and pancakes. But warming myself by the woodburner in the evening I remembered coming in from a winter walk to a tot of blackberry whisky.
So the latest blackberries have been added to a kilner jar along with whisky and sugar. The dark purple liquor is sitting on the kitchen windowsill, reminding me to give it a shake daily to dissolve the sugar. It's also reminding me what a great pudding the boozy berries will make, added to good vanilla ice-cream when I decant it in a few months time.
I normally make damson or sloe gin but my low-sugar damson jam is going down so well this year, that I think the damsons in the freezer will be needed for more jam. Happily the hedgerows have given me another idea for my cheap supermarket gin.
Wherever I turn in the lanes near me at the moment I see hedges dripping with tempting elderberries. They keep reminding me how shoddy I am.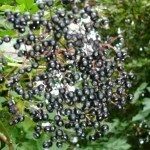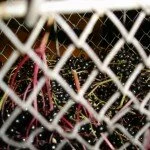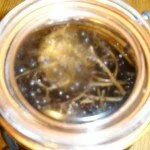 Last year, faced with the abundance of elderberries it seemed crazy not to make use of them and I determined to look out for a demi-john in charity shops so that I could make elderberry wine. Now it's elderberry time again and I still haven't got round to buying one. But I found a recipe for elderberry liquer made with vodka on www.honest-food.net and decided to try it with my gin.
It's sitting in a dark cupboard, awaiting decanting in a few months. Already I'm imagining it will be a rich, port-like drink and dreaming up the cosy evenings it will suit and the local cheeses it will suit. Apparently it gets better the longer you leave it so just hope I can resist tasting it too early.
blackberry whisky
1.8kg blackberries
225g sugar
bottle of whisky
Place the fruit, sugar and whisky in a large jar (I used a Le parfait, kilner style jar). Stand the bottle on a sunny windowsill and shake every 3 or 4 days, until the sugar has completely dissolved. Place in a dark cupboard for 3 months or so, until the whisky has turned a dark purple colour. Strain and bottle in sterilised bottles. Keep it secret for up to a year is possible – it improves with age. So far I haven't been able to hang on this long.
elderberry gin
800 ml elderberries
750ml gin
50g sugar
rind of half a lemon
Put elderberries in a jar and pour over gin. Add lemon rind, shake jar and put in a drak cupboard for 3 months. Strain liquor through muslin, add to clean jar with sugar, shake vigorously and return to cupboard for 2 months, shaking every week or so. You can decant into a bottle and drink after this but it will improve with age. Elderberries are full of antioxidants and high in vitamin C so I'm looking forward to drinking gin feeling virtuous.