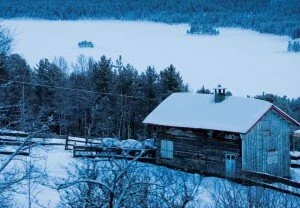 I'm planning to cook a lovely Trine Hahnemann root vegetable recipe this weekend. It's very simple, you roast purple and yellow beetroot, parsnips, and Jerusalem artichokes (I may add celeriac), then mix a dressing of cider vinegar, dijon mustard, honey and grated horseradish. Served warm I reckon it will go well with the fish, Christmas leftover smoked salmon and leek pie (turkey and ham for the meat eaters) I'm cooking for a family get together. And I think the root veggies would be great cold with the smoked trout I've been given by a fisherman friend of the family.
The recipe comes from Trine Hahnemann's "Scandinavian Christmas". I know, I'm a tad late to be reviewing a festive book! But Trine's enthusiasm for embracing the winter months and her comforting, often very healthy recipes seem to me just the thing for adding some cheer to the next few months.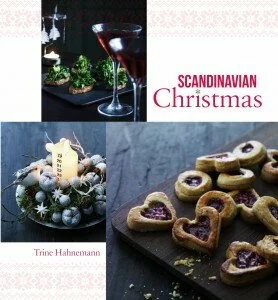 'Hygge', Trine explains, is "a Danish term that is almost untranslateable, but encompasses comfort, camaraderie and good food and drink." Getting family or friends together around the kitchen table, ripping chunks off a freshly baked Ruis bread (Trine's recipe is made with wholemeal rye flour and looks so wholesome) seems a great way of throwing ouselves into the spirit of hygge. Maybe with some orange pickled herrings or beetroot cured salmon (I'm keen to try this recipe with trout from our Cotswold rivers too) or with home-made preserves such as Trine's blackcurrant jam for breakfast.
And if we happen to have snow over the next few months, there are recipes for Glogg of course, perfect as a warming tipple after sledging. Her plums preserved in rum sound perfect to go with the last of the port and stilton too.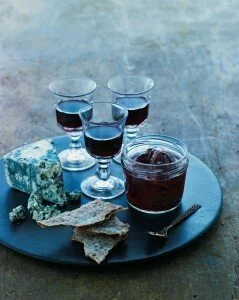 Reading Trine's descriptions of coming in from the cold to warming food and drink sound so enticing. She admits:
"I am a winter person, I love the cold and the way the world turns silent when covered in snow."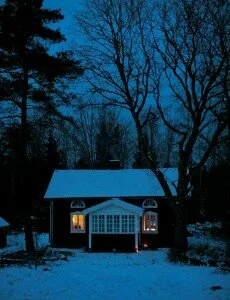 The lovely pictures of root veg gratins, Scandinavian biscuits such as Hallon cookies, Honey Hearts and Crisp cinnamon cookies all make me want to light some candles, stoke up the woodburner and get baking.
I was glad to see there are plenty of new ideas for my home-grown/reared produce: pork with apples and jerusalem artichokes, quince syrup and kale salad with jerusalem artichokes all look tempting but healthy. While I'm looking forward to raiding the hedgerows in Autumn for the elderberry cordial. I always make elderflower cordial and tried elderberry gin last year, but hadn't realised I could use the berries for cordial too.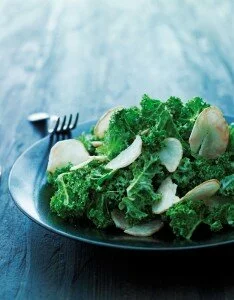 But equally enticing are the properly Scandinavian sounding recipes such as Apple aebleskiver , Caramel potatoes, 'Nisse' (elf) cake, Klejner (apparently "big, soft and lovely with icing" and great with Glogg) and Pulla bread. And I love the sound of the Lingonberry recipes, although I've never tried them. A vital part of the Scandinavian food culture, they're packed with vitamin C and are used by Trine in Lingonberry compote, Lingonberry gin fizz and Lingonberry cordial.
Rosehips and Sea Buckthorn feature too, the preserves made with them sound lovely and I find the foraging element very appealing. In fact one of the attractions to me of Scandinavian food is the close connection between countryside and plate. Many of Trine's recipes have a lovely simplicity and freshness – this is comfort food but far from stodgy. There are lots of raw vegetable dishes such as Kale salad with pomegranate and Red cabbage salad, all made with seasonal ingredients. In her 'Gifts from the Kitchen' chapter, Trine suggests, "You can also use preserving as an excuse to catch up with family members; when certain fruits and vegetables are in season, for instance, I go to visit my mother and cook with her at her home in the country."
There's also an emphasis on celebrating advent, and winter, outside:
"Play in the snow: remember there is no such thing as bad weather, only the wrong clothes. Serve hot drinks, salmon sandwiches, and 'nisse' (elf) cake, make a stew and bake bread over the open fire…"
Of course there are lots of amazing recipes for Christmas baking, with gorgeous pictures by Lars Ranek of perfectly decorated cakes and biscuits. Looking at them is already giving me ambitious ideas for next Christmas, and I'm imagining myself like Trine, with a house full of ribbons, candles and stars while I fill tins with beautiful Iced almond hearts and several different types of cookies ready for visitors.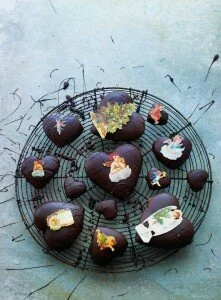 But before I get too carried away, I remember my limitations; my biscuits, even if I didn't have a keen 5 year old assistant, wouldn't look like this. And I have to be honest and admit that much as I love the idea of all that Christmas baking, I did get a bit exhausted last month with all the present making, cooking and preparations.
How reassuring then that Trine reminds us in "Scandinavian Christmas":
"It's completely missing the point of Christmas to be totally stressed out! Select just those things from this book that you would like to cook, and have fun. "
Must remember this next Christmas. When I'm tempted by this wonderful book to plan festive brunches, suppers, tea parties and a Christmas Eve feast at the same time as filling jars with cookies and attempting to make a gingerbread house with lots of small children, I must sit down with a lingonberry fizz. And remind myself to keep it simple, remembering it's all about 'hygge'.
SCANDINAVIAN CHRISTMAS by TRINE HAHNEMANN, published by Quadrille (£16.99, hardback)
Photos ©LARS RANEK