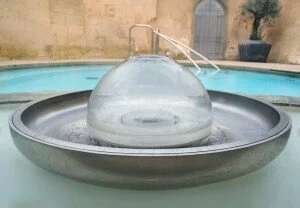 In the summer my favourite me-time is definitely dusk gardening. In the depths of winter it has to be soaking in a hot bath with a book. But like a lot of Mums I'm terrible at fitting it in. At Ruby's bathtime when I'm feeling as tired as she is, I'll often think, "Mmm, that looks nice, later I'll have a lovely soak myself." Of course I clear up, put washing away, then think I'll just complete some writing or do some research on the laptop, maybe fit in a bit of preserving or ironing. Before I know it, I've run out of evening and my bath hasn't happened.
On a very indulgent day last week, I made up for this in style. All I had to do was lie in lovely warm baths for most of the day. And I can definitely vouch for the reviving powers of water.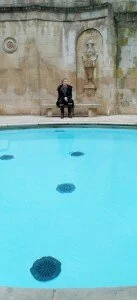 I visited Bath Thermae Spa, and heard that the hot springs that feed these baths were once worshipped. The Romans built a sophisticated series of baths and a temple dedicated to the goddess Minerva here. Having enjoyed a day of total relaxation, floating in warm, mineral-rich water, breathing in soothing vapours infused with aromatic sandalwood in the Steam rooms and generally being soothed by water, I am in total agreement with them.
My favourite part of the day was enjoying the open-air rooftop pool towards the end of the afternoon as the sky darkened and lights flickered on across this lovely city. The Thermae Spa is right in the centre of Bath, very close to the Abbey. Lying in naturally warm water on a cool January day, seeing steam rise from the blue pool while enjoying amazing views of lovely Georgian buildings and the surrounding hills, was blissful.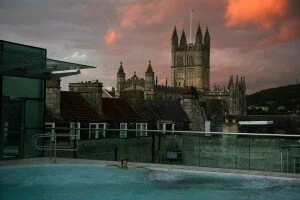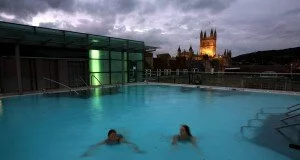 The Thermae Spa building itself is a great combination of contemporary design and historic spa buildings. It works brilliantly. Lots of light, flowing curves and modern, clean lines add to the calm atmosphere but it's lovely to turn a corner and glimpse Georgian architecture too.
What struck me as remarkable though, is that the waters really are natural. In the open air Cross Bath, I felt the warm water bubbling up at force out of the ground. The water temperature is around 33.5c, there's the large indoor 'Minerva Bath' where you can enjoy massage jets and a whirlpool in addition to the amazing rooftop pool and none of them are heated. The water comes out of the ground already heated and containing over 42 different minerals.
The only water heated here is in the changing room showers, so this really does seem to be a very eco-Spa. My friend, Chava (who took the top 3 pics) and I enjoyed wonderful hot oil aromatherapy massages and all the products used in pampering treatments are organic too.
Feeling very mellow at the end of our lovely day, we headed to Demuths, a vegetarian restaurant in a lovely Georgian town house. The imaginative use of local, seasonal vegetables here was inspiring and I'll report more on this later in the week. The relaxed atmosphere felt just right for our mood. As I ate, I mused that I'll daydream about my lovely day taking the waters during many future frazzled bath-times.
Top three photos by Chava Eichner. Others are by Andy Short and Matt Cardy, used with the kind permission of ThermaeBathSpa.