I have to admit that the words pie and salad are not often paired in this house. Pie and mash, yes regularly. Pie and steamed veggies even. Salad, flowers and pies, not really. But thanks to some totally delicious and very summery pies that I was sent recently by Higgidy and a selection of salad seedlings from Sarah Raven we've been turned.
Imaginative fillings such as Sweet Potato & Feta with pumpkin seeds, Chicken & Smoky Spanish Chorizo Pie had something to do with it. Then there's the fact that the side dish was very handily growing just by the back door.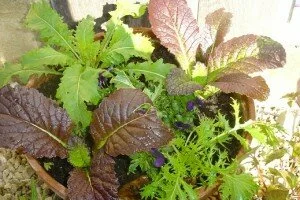 The mizuna, red mustard, rocket and red & green lettuce seedlings were sent to me by Sarah Raven back in April, with fab seed markers and a feed to encourage healthy growth. The idea was that I would grow my own side salads to accompany the pies that would follow in June.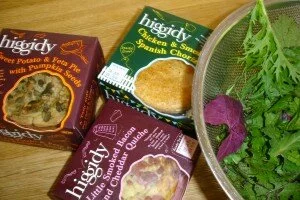 Some of the seedlings were planted in a little area next to my strawberry bed, but I have to admit that the ones that fared best were planted in a pot right next to the back door. Sheltered, against a sunny wall and very handy for watering they also provided handy leaves for lunchtime sandwiches before the arrival of pies.
I don't normally buy pies, although I'm very partial to a home-made chicken and mushroom, buffalo and kidney or wild greens and ricotta version. As these turned up when we were just back from holiday and I had lots of work to catch up on, they were particularly welcome.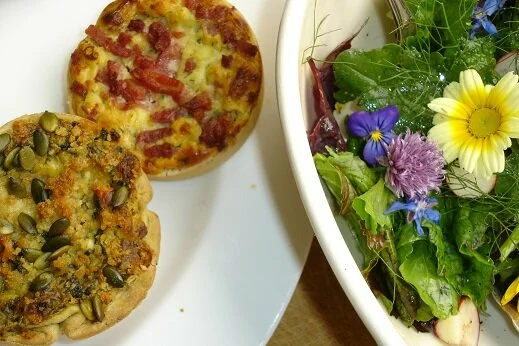 Pies that taste like properly handmade pies too, but with lovely fillings I hadn't thought of. As well as including classics such as the Little Smoked Bacon & Cheddar Quiche (Ruby's favourite).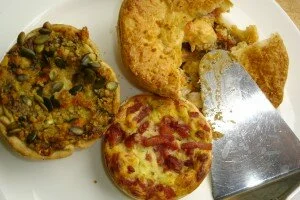 There are some great, imaginative ideas for side dishes both on the pie boxes (Warm White Bean Salad to go with the Chicken & Spanish Chorizo Pie, Moroccan spiced Carrot & Orange for the Sweet Potato & Feta) and on the Higgidy web-site. Because I was looking forward to an easy supper, and I returned from holiday to a garden full of edible flowers, I popped outside and then tossed the following ingredients together for this salad to enjoy with my pies:
Garden Salad with Edible Flowers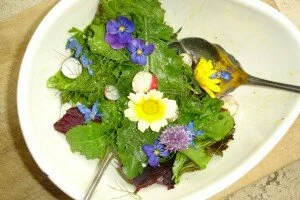 A few handfuls of mizuna, rocket, red mustard, lettuce (grown from my Sarah Raven seedlings)
Purple & red radish sliced
A handful of flat leaf parsley tips
A few fennel fronds & pea-tips
Salad Burnet (for a cucumber-ish flavour)
A handful of edible flowers – borage, violets, chop suey green flowers, chive flowers, calendula)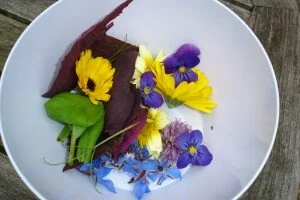 1 tablespoon cider vinegar
4 tablespoons local rapeseed oil
A little sea-salt
Very glad I have a few pies still in the freezer – the first new potatoes are nearly ready and I'm thinking already of tossing a few with sorrel & butter to scoff with a Chicken & Chorizo pie.
With thanks to Higgidy and Sarah Raven for providing me with delicious pies and salad seedlings.