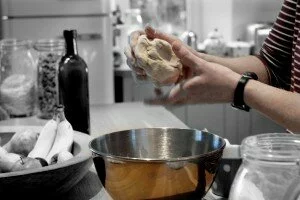 As usual the start of a new year has me thinking about food. What I'm going to grow this year (how exciting is it that no sooner is Christmas over than we can start looking forward to longer days, planting seeds, Spring) but also what I'm going to cook. And it might not be too long until the first Spring lambs are born in the barns near us or the first bulbs peep through but there's still time for winter comfort cooking.
After all that rich festive food and all that festive spending, something simple is in order. Bread fits the bill perfectly for me. A bit of simple pottering with store cupboard basics leads to homely aromas in the kitchen and freshly baked focaccia or flatbread adds interest to the last of the leftovers.
Focaccia is great for any little helpers too – I find Ruby's fingers and thumbs the perfect tools for those lovely indents where the olive oil and herbs gather. She loves sprinkling over rosemary, maldon sea-salt and drizzling the olive oil. And I agree with The Garden Deli about the attractions of rosemary at this time of year – and woody herbs generally. Who needs basil in January when thyme, sage and rosemary stand up to the heat of roasting, suiting wintry dishes so well. Sage and thyme work well on focaccia too and I'm planning to use them in bread with some of the leftover goats cheese.
But quick flatbread cooked on top of my Esse woodburner is my favourite bread of the moment. So quick and easy to rustle up – it can be made last-minute with no thought given to kneading or proving. Yet it makes such a lovely comforting yet frugal treat to mop up the turkey curry, pork chilli (we still have lots in the freezer!) beetroot or houmous dips or dhal. This is my favourite flatbread recipe, originally from  Moro the second cookbook and although I cook it directly on the hoplates of the woodburner, it can be cooked in a frying pan (make sure it's a pan suited to dry coCasaoking – I know from experience, having wrecked one frying pan pre-woodburner!) on any conventional cooker. I like the Moro line that: "…it is easier to make flatbread for two people than go to the local shop and buy some pitta bread."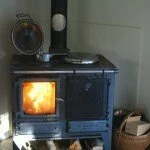 Quick Flatbread
Makes 4 thin breads, enough for 2 people
100ml warm water
1/4 teaspoon dried yeast
130g unbleached strong white bread flour (I experiment with wholemeal or part wholemeal/part white flour too – I find that wholemeal results in good flavour but less puffiness)
1/4 teaspoon fine sea salt
1 tablespoon olive oil or rapeseed oil
Stir the yeast into the water and put the flour into a medium bowl with the salt. Begin to add the yeast and water to the flour. Start at the side of the bowl, pouring in a little water, incorporating some flour, and so on, all the time working out the lumps with your fingertips. When all the flour and water have been incorporated, beat in the olive oil with your fingertips. Ideally let the dough sit for 20 minutes, give it a quick mix to make more elastic. Then flour your hands and the dough, divide into 4 and roll out each one to a thin circle. Heat a large frying pan over a medium to high heat if you don't have a woodburner with hotplates, then cook each bread one at a time. Place directly on woodburner hotplate or frying pan, when it starts to bubble, turn it over with a spatula. Cook until underside has brown spots. The bread should be cooked but still pliable. Keep warm, covered with a tea-towel, while you cook the rest.
Happy New Year baking!